Thursday, December 19
3rd Thursday Hike: Biscuit City
Place: Biscuit City TrailTime: 8:30 amJoin us for our 3rd Thursday hike! December's hike will be at the Biscuit City Trail.
Biscuit City Preserve, SKLT's handicap accessible site, is historically significant to the Town of South Kingstown. The area dates back to when Native Americans and colonists used it for a water source due to the natural spring that is located on the site. There are also many historic ruins which include the mill foundation, the water wheel pit, the cellar hole to the miller's house, and a root cellar. SKLT's most recent improvement to the Preserve is the installation of a six-foot wide, 4 to 6-inch-deep layer of crushed blue stone leading 475 feet from the trail head at Spring Dale Road along the north and west shoreline edges of the half-acre Biscuit City Mill Pond. We are hoping that this area will open possibilities for persons with mobility issues to experience and appreciate an exquisite "pocket" nature reserve featuring varied flora and fauna, including native plants and fungi, a mature hickory, ash, and oak forest, aquatic animals and plants, and an impressive variety of birds.
For directions, please visit 
http://sklt.org/land-we-protect/trail-maps/
Saturday, January 4
All Ages Hike & Park Rx
Place: Browning Woods TrailTime: 10:00 am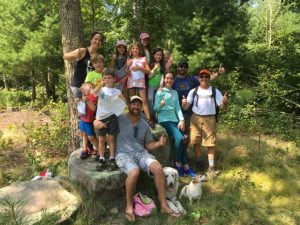 Join us for an all ages hike in our largest land holding through pine and oak forest and past amazing stone walls. We will hike about 3 miles, though you can shorten your outing to about 1 mile if desired. Kids and leashed dogs welcome! This monthly hike on first Saturdays is part of a Park Rx initiative in which healthcare providers in South County are joining a national movement to "prescribe" taking walks and spending time in nature for better physical and mental health.
Click here
for a trail map of Browning Woods.
Thursday, January 9
Members-Only Full Moon Hike & Bonfire
Place: Weeden Farm, 17 Matunuck Beach Rd.Time: 4:00 pmOn Thursday, January 9 from 4:00pm – 6:00pm, join the South Kingstown Land Trust for a Full Moon Hike at Weeden Farm, 17 Matunuck Beach Rd.! The fields at Weeden provide the perfect landscape for viewing this astronomical delight. Following the brisk hike, warm up around a bonfire outside the Barn with s'mores and a hot drink. We plan to hike if it's clear and cold but are prepared to cancel if hiking or driving conditions are unsafe. Visit our website for inclement weather updates. This event is for MEMBERS ONLY and open to the first 50 people. Pre-registration is required. RSVP to Angela Brunetti at angela.brunetti@sklt.org or 401-789-0962 ext. 204.