Thursday, April 26
Denali Night Out!
Place: Wakefield Mall, 160 Old Tower Hill Road, Wakefield, RI 02879Time: 6:00 pmJoin Denali Outdoor gear Store and 
OluKai
 for a night out to benefit SKLT! Besides some amazing raffle items there will be music, beer from 
Kona Brewing Company
, wine from 
Mionetto Prosecco
, refreshments, & more! Entrance: $5 donation to SKLT
Sunday, April 29
Annual Meeting
Place: 17 Matunuck Beach Rd.Time: 3:00 pmOn Sunday, April 29th, at 3pm, the South Kingstown Land Trust will host their Annual Meeting at the SKLT Barn, 17 Matunuck Beach Road, South Kingstown. After a short business meeting and an update on what's happening at the Land Trust, SKLT will host a presentation: "The Rhode Island Bird Atlas 2.0: A Year - Round Perspective" by Charles Clarkson. For the first time, Rhode Island has documented not only breeding birds within the state, but also wintering and migrating birds. Bird atlases provide data on the distribution, abundance and long-term change of bird populations within a state. Because birds are effective indicators of environmental change, these metrics can be used to determine habitat health and atlases are often employed by conservation agencies to inform land management strategies. The Rhode Island Bird Atlas is unique in that it is the first atlas to survey year-round use of habitats by birds. This all-season atlas collects data on the use of Rhode Island habitats by breeding, wintering and migrating birds, which allows us to model the importance of these habitat types on an annual basis. Combined with detailed habitat mapping tools and advances in the use of NEXRAD radar, the current iteration of the Rhode Island Bird Atlas will be a valuable tool for conservation groups seeking to promote biodiversity through habitat management. In its third-year of data collection, the atlas has already shed light on numerous significant changes to the avifauna of Rhode Island. Charles Clarkson, originally from the mountains of Central Virginia, has always gravitated towards birds and he decided that there could be no more satisfying life than one devoted to his feathered friends. Clarkson graduated from the University of Virginia with a doctorate in avian toxicology. Charles moved to Rhode Island in 2011 and began teaching at Salve Regina and Roger Williams Universities. In 2015, Charles was employed as the coordinator for the Rhode Island Bird Atlas, a five-year, statewide project aimed at documenting the distribution and abundance of our birds.
Saturday, May 5
All Ages Hike & Park Rx
Place: Browning Woods Trail Time: 10:00 am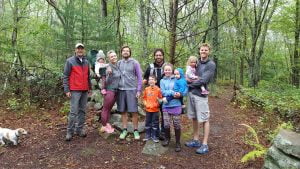 Join us for an all ages hike in our largest land holding through pine and oak forest and past amazing stone walls. We will hike about 3 miles, though you can shorten your outing to about 1 mile if desired. Kids and leashed dogs welcome! This monthly hike on first Saturdays is part of a new Park Rx initiative in which healthcare providers in South County are joining a national movement to "prescribe" taking walks and spending time in nature for better physical and mental health.
Wednesday, May 9
The Chestnut Blight: An Ecological Disaster with a Hopeful Outlook
Place: SKLT Barn, 17 Matunuck Beach Rd, South KingstownTime: 6:00 pmKendra Collins with The American Chestnut Foundation will share the story of the loss of the American chestnut on our landscape, as well as hopeful efforts to bring the species back.  Come learn about one of the largest ecological disasters to hit the US. and what it meant for our eastern forests. Lecture in partnership with the South County History Center.
Thursday, May 17
3rd Thursday Hike: Crawley Preserve
Place: Crawley PreserveTime: 8:30 amGet outside SK! Join us for a new 2018 hike series! We will be leading a guided hike every 3rd Thursday at 8:30am on different SKLT trails as part of a campaign to #GetOutsideSK! Our goal is to inform both our members and public of the trail opportunities available in South Kingstown by giving guided hikes at one of our featured trails each month. This month's trail will be at Crawley Preserve, which hosts three well marked and well maintained trails on 99 acres straddling two towns: Richmond and South Kingstown. The Preserve was acquired in 2003 as a joint project of the Richmond Rural Land Conservation Trust and SKLT, and funded by the Town of South Kingstown and The Nature Conservancy. The trails pass though upland forest of beech, oak and the occasional white pine. For more information on parking, and for a Crawley Preserve Trail map,
click here.
Join us this month or next for a guided hike whether you bring your (leashed) dog, kids, grand kids, neighbors or just yourself and #GetOutsideSK! Please check website, Facebook and (our new) Twitter in case of foul weather. Next month trail: Yawgoo Trail and extension