Saturday, February 2
All Ages Hike & Park Rx
Place: Browning Woods TrailTime: 10:00 am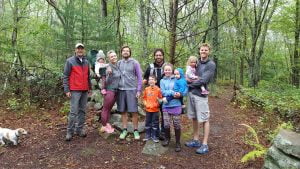 Join us for an all ages hike in our largest land holding through pine and oak forest and past amazing stone walls. We will hike about 3 miles, though you can shorten your outing to about 1 mile if desired. Kids and leashed dogs welcome! This monthly hike on first Saturdays is part of a Park Rx initiative in which healthcare providers in South County are joining a national movement to "prescribe" taking walks and spending time in nature for better physical and mental health.
Click here
for a trail map of Browning Woods.
Tuesday, February 19
REGISTRATION CLOSED: Full Snow Moon Hike and Bonfire
Place: Weeden Farm, 17 Matunuck Beach Rd, South KingstownTime: 4:30 pmDUE TO EVENT POPULARITY, WE HAVE REACHED OUR CAPACITY WITH THIS EVENT AND HAVE CLOSED REGISTRATION. Stay tuned for more exciting events!
According to the Farmer's Almanac, this February full moon is traditionally known as the "Full Snow Moon" since the heaviest snows typically fall in this month. Since hunting is more difficult at this time, some Native American tribes were known to call this moon the "Hunger Moon." Whatever you decide to call the February moon, we hope you join us! The fields at Weeden provide the perfect landscape for viewing this astronomical delight. Following the brisk hike, warm up around a bonfire outside the Barn with s'mores and a hot drink. We plan to hike if it's clear and cold but are prepared to cancel if hiking or driving conditions are unsafe. Visit our social media pages or website at
www.sklt.org
for inclement weather updates.