Saturday, February 1
All Ages Hike & Park Rx
Place: Browning Woods TrailTime: 10:00 am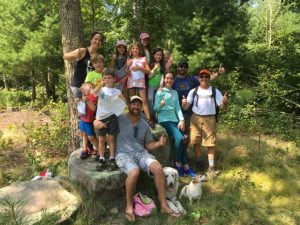 Join us for an all ages hike in our largest land holding through pine and oak forest and past amazing stone walls and historic foundations. We will hike about 3 miles, though you can shorten your outing to about 1 mile if desired. Kids and leashed dogs welcome! This monthly hike on first Saturdays is part of a Park Rx initiative in which healthcare providers in South County are joining a national movement to "prescribe" taking walks and spending time in nature for better physical and mental health.
Click here
for a trail map of Browning Woods.
Thursday, February 20
Restoring Habitats for Threatened Amphibians and Reptiles in Rhode Island
Place: SKLT Barn, 17 Matunuck Beach Rd.Time: 6:00 pmOn Thursday, February 20, SKLT will host Dr. Nancy Karraker, Associate Professor, Department of Natural Resources Science at the University of Rhode Island. Dr. Karraker has a deep interest in solving conservation and management issues on the ground and will present on her research as a field biologist. Her lab focuses primarily on the consequences of environmental change for wetland plant and animal populations and also terrestrial and stream-dwelling herpetofauna. Her own research has examined the impacts of habitat loss and degradation, pollution, climate change, invasive species, and disease on biodiversity in North America and Southeast Asia, and she has done extensive work on the impacts of road deicing salt on amphibians and wetlands.
Most recently, Dr. Karraker and her students have studied the effects of pollutants and invasive predators on amphibians, demographic consequences of forest loss and degradation on frogs and lizards, impacts of illegal trapping and small dams on turtles, and implications of translocation programs for "nuisance" snakes.
Her talk will touch on various aspects of her global research and partnerships as well as her work locally to provide vital habitat for the endangered spadefoot toad. Karraker will share details of the upcoming project to install vernal ponds on South Kingstown Land Trust property which will provide breeding sites and allow for expanded habitat and the reintroduction of the species.
Although most of her research focuses on amphibians, reptiles, and wetlands, she has studied invertebrates and water quality and is a lifelong birder.
Bring a dish to share! Potluck supper begins at 6 p.m. followed by lecture at 7 p.m. Kindly RSVP.