Thursday, December 20
3rd Thursday Hike: Weeden Farm
Place: Weeden Farm, 17 Matunuck Beach Rd, South KingstownTime: 8:30 am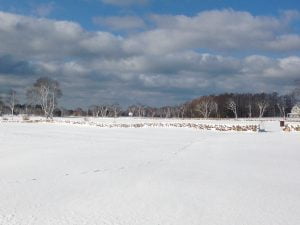 Join us for our 3rd Thursday Hike! December's hike will be on Weeden Farm, which is located on a glacial outwash plain. This easy-to-walk 1.6 mile trail features pastoral views of stone walls and fields actively cultivated for hay and corn. Visitors also may enjoy views of fields managed for wildlife habitat and a large grove of larch trees. Ample parking can be found next to the South Kingstown Land Trust Barn, site of our annual auction and many other events throughout the year. For directions, visit 
http://sklt.org/land-we-protect/trail-maps/
Saturday, January 5
All Ages Hike & Park Rx
Place: Browning Woods TrailTime: 10:00 am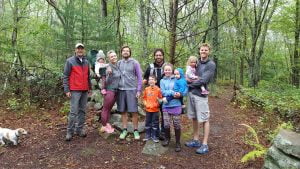 Join us for an all ages hike in our largest land holding through pine and oak forest and past amazing stone walls. We will hike about 3 miles, though you can shorten your outing to about 1 mile if desired. Kids and leashed dogs welcome! This monthly hike on first Saturdays is part of a Park Rx initiative in which healthcare providers in South County are joining a national movement to "prescribe" taking walks and spending time in nature for better physical and mental health.
Click here
for a trail map of Browning Woods.
Thursday, January 17
3rd Thursday Hike: Yawgoo Pond
Place: Yawgoo Pond TrailTime: 8:30 amJoin us for our 3rd Thursday Hike! Our January hike features the 1.26 mile Yawgoo Pond Trail, which takes the hiker by a kettle hole bog, over Mud Brook, and through a grove of stately white pine trees. Yawgoo Trail is also noted for its thick under-story of mountain laurel, especially near the steep banks of the kettle hole, and spectacular views of pristine Yawgoo Pond. The first acquisition in this area by SKLT, a 12.04 acre parcel at the south end of Yawgoo Pond, was through private donations in February 2001. The second acquisition, in October of 2005, preserved 68.3 acres on the east side of the pond. This project received support from the DEM Forest Legacy and Open Space Bond Fund, The Nature Conservancy, The Champlin Foundations, The Bafflin Foundation, and private donations from neighbors. For directions, visit 
http://sklt.org/land-we-protect/trail-maps/
Thursday, January 17
Biodiversity in South Kingstown: Rare and Common Species and How to Tell the Difference
Place: SKLT BarnTime: 6:00 pmThe South Kingstown Land Trust will host David Gregg, Executive Director of the Rhode Island Natural History Survey, for an illustrated presentation focused on the biodiversity in South Kingstown. In June 2018 Gregg led a team of volunteer scientists in a BioBlitz, a 24-hour inventory of the flora and fauna of the coastal woodlands, sea-level freshwater wetlands, salt marshes, mudflats, shores, and marine waters around Camp Fuller in the Matunuck area of South Kingstown. Beginning with the results of this BioBlitz, Gregg will talk about what makes species rare or common and how to know the difference as well as the challenges and broader benefits of preserving South Kingstown's unique biodiversity. Bring a dish to share! Potluck supper begins at 6pm followed by lecture at 7pm.
The Rhode Island Natural History Survey is a non-profit organization founded in 1994 with a mission to connect people knowledgeable about Rhode Island's animals, plants, and natural systems with each other and with those who can use that knowledge for research, education, and conservation. Its activities include Rhode Island BioBlitz; the Rhody Native plant initiative; invasive species response and education; and support for partners including RIDEM, Audubon Society, The Nature Conservancy, and the land trust community statewide.
David Gregg has been director of the Natural History Survey since 2004. He grew up exploring the woods, fields, and shores of Cape Cod and began collecting insects at age 13. By training, David is an archaeologist, with fieldwork in Europe and Alaska. David has hosted documentary videos and published on topics including educational enrichment, science communication, prehistoric archaeology, and museum studies. He is a SKLT member and lives in South Kingstown.