Sunday, April 28
Members Annual Meeting featuring a Presentation on Coyotes
Place: SKLT Barn, 17 Matunuck Beach Rd.Time: 3:00 pmOur
members only
Annual Meeting will be held at 3 p.m., Sunday, April 28 at the Barn, 17 Matunuck Beach Rd. It will be followed by a presentation with Dr. Numi Mitchell, lead scientist with the Narragansett Bay Coyote Study (NBCS). Launched on Aquidneck Island in 2004, NBCS has secured funding to expand its research area throughout Rhode Island for a new five-year study. Working with SKLT, the Rhode Island Natural History Survey, Rhode Island Department of Environmental Management, and Rhode Island residents, the study will help control the coyote population and work toward a more peaceful coexistence. Humans try to eliminate coyotes by hunting, trapping, and poisoning, which do not work as a population control strategy. Believe it or not, coyotes control their own numbers by regulating reproduction based on food availability. If coyotes are removed lethally, the population will likely go up as competition for food goes down. Reducing food availability should lead to a reduction in the coyote population. If the NBCS can identify and control coyotes' food sources, the animals will reduce their numbers naturally—a humane and passive way to manage populations and work toward coexistence. Mitchell is using GPS tracking collars to find out where coyotes are spending their time. A healthy alfa-male coyote dubbed "Ghost" was trapped in fall 2018 on a South Kingstown Land Trust property, tranquilized, collared and released back into the wild. Mitchell is tracking this coyote in search of its food source. Join us as Dr. Mitchell shares research-based strategies for the management of and coexistence with coyotes in Rhode Island.
SKLT membership required
. You can join or renew
here
. Please RSVP below!
View the proposed changes to the bylaws here.
Saturday, May 4
All Ages Hike & Park Rx
Place: Browning Woods TrailTime: 10:00 am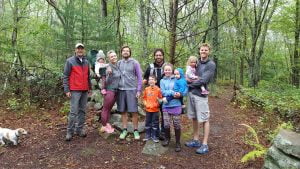 Join us for an all ages hike in our largest land holding through pine and oak forest and past amazing stone walls. We will hike about 3 miles, though you can shorten your outing to about 1 mile if desired. Kids and leashed dogs welcome! This monthly hike on first Saturdays is part of a Park Rx initiative in which healthcare providers in South County are joining a national movement to "prescribe" taking walks and spending time in nature for better physical and mental health.
Click here
for a trail map of Browning Woods.
Saturday, May 4
Young Naturalist Backpack Program Launch
Place: Peace Dale LibraryTime: 2:00 pmJoin us as we introduce a new Young Naturalist Backpack Program! Patrons with a valid South Kingstown Public Library card will be able to check out one of the six backpacks filled with items that will encourage kids and families to explore more than 12 miles of SKLT's beautiful natural areas. There will be a presentation by author Jeanine Silversmith from "RI Families in Nature" about hiking with kids. Refreshments will be served. This program was created with partner South Kingstown Public Library and made possible by a generous grant from Bank Newport.
Thursday, May 16
3rd Thursday Hike: DuVal Trail
Place: DuVal TrailTime: 8:30 amJoin us for our 3rd Thursday hike! May's hike will be at DuVal Trail. Visitors enjoy a sweeping view of the ocean and Block Island to the south from a scenic overlook. Susanna's Woods is noted for its stands of oak and used as woodlots for the plantation families who farmed the flat land nearer the coast. Though the area was never cleared, it has been continually cut for 300 years. For directions, please visit
http://sklt.org/land-we-protect/trail-maps/
Thursday, June 6
The Promise of Restoration: Lecture and Potluck with Activist
Place: SKLT Barn, 17 Matunuck Beach Rd.Time: 6:00 pmJoin SKLT and the Narrow River Land Trust as we host Marion Stoddart, a citizen leader committed to a lifetime of grass roots organizing and coalition building for positive social and environmental change. In the early 1960s, Marion Stoddart was a Massachusetts housewife and mother of three who decided to take on the impossible - cleaning up the Nashua River, which ran through her town and was then one of the most polluted rivers in America.
During her years of tenacious advocacy, Marion organized a massive citizen effort to rescue the river. She lobbied successfully for legislation, including the landmark Massachusetts Clean Waters Act. Continuing that record of success, she petitioned the Federal government for millions of dollars of promised funds to fight the pollution—and won. Today, thanks to the efforts of Marion and the Nashua River Watershed Association (the non-profit she founded), the river is clean and restored.
The program will include a showing of the documentary film "Marion Stoddart: The Work of 1000 (2010)" followed by a question and answer session with Marion. The vintage footage in the film will resonate with many who recall the pollution of the Saugatucket River and inspire those of us who strive to restore and protect the rivers and watersheds in our community. Potluck begins at 6pm; video and lecture at 7pm. Free and open to the public, reservations encouraged, space is limited.