Join us for a lovely, fun-filled afternoon on Sunday, August 6th from 4-6:30pm for our annual Great Outdoors Celebration and Auction at the SKLT Barn in Matunuck.
Going once, going twice, sold to the highest bidder!  Noted garden designer and horticulturist Louis Raymond of Renaissance Gardening will again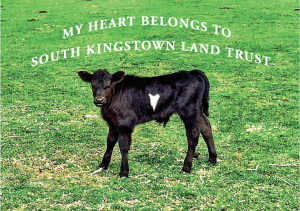 be our fearless and humorous auctioneer. The auction will offer works by local artists, dining experiences and travel adventures.  We will celebrate saving over 2,700 acres of South Kingstown land and will raise our glasses to the good people who bid to support our land preservation initiatives. If you are a SKLT member, look for your invitation to arrive by early July.  Tickets are $25 in advance or $30 at the door. Be sure to bring a friend to enjoy a lovely afternoon and help protect open space.
Great Outdoors Celebration Sponsors 
Pacesetter
Karen Kames & Chris Gaffney
Dottie & Ken Woodcock
Keystone
Susan Seyfarth Lovejoy, Carolyn & David Moultrop
Patagonia/ Denali, Clark Farms
Gatekeeper
Martha Day & CN Hetzner, Shoreline Properties, Sweenor Builders, Inc.
Trail Blazer 
A Quick Tire, James V. Aukerman, Esq., Citizens Bank, Coastal Properties, Lila Delman Real Estate International, Carol & John Howland, Howard Johnson, Inc., Martone Service Company, Ocean Mist, People's Credit Union, Randall Realtors, Clifford M. Renshaw Architects, Rose & Kiernan, SmithCo Oil Serivce, Inc.
If you would like to add your name to the list of sponsors, please contact Anne O'Neill at 401-789-0962 ext. 204.  In return for your generous sponsorship you will be recognized on the SKLT website and in the auction program.