Hale House schedule of events, Summer 2018!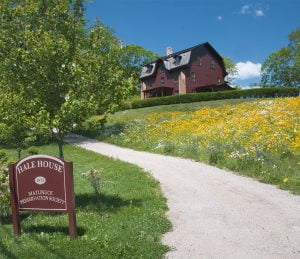 Hale House will open on Flag Day (June 14th) this season with songs and a photo exhibit of South County celebrating the flag and patriotism in the past.  A sing-along will be led by Kristine Wilbur who is preparing all the patriotic songs we know so well.  The event is free and open to the public.  The festivities begin at 5pm and continue to 7pm.   And, if you are there, you will be among the first to see the vintage American flag painted during the Vietnam War from corner to corner of the parlor ceiling.  This has been covered for many years, and this year it will be uncovered for all to see! Please join us!
The theme, Patriotism/ Protest, is particularly appropriate this year amidst all the political turmoil of these times.  We will continue the theme with a talk by Maury Klein about patriotism during and after the Civil War.  This will be held at the Land Trust Barn on Matunuck Beach Rd. on Friday, June 29th at 7pm.  Reservations are suggested.
In July, we will be delighted to present Nancy Hood and Barry Brown in a presentation "I've Got a Song", A living history of the McCarthy Era. The program was presented at the Unitarian Church this winter, and once we saw it, we knew we had to book it for all of you.  It is an unforgettable story told through song. You will not want to miss this one on July 20th at the Land Trust Barn at 7pm. Reservations are suggested and donations will be appreciated.
The summer series will conclude with The Hilltop Trio in a classical concert of patriotic music.  The cost of this program is $20.00 and seating is very limited at Hale House.  Please make your reservation early for this program on August 17th at 7pm. The Trio is led by Jane Murray who has been performing at Hale House every summer with her fellow musicians, other members of the RI Symphony Orchestra. Many of you wait each summer for this program, and will want to register early.
Registration for any of these programs may be made by e-mail @halehouseri@gmail.com.  Further information may be obtained at the website: halehouseri.org.
Hope to see you one Friday or Saturday at the house from June 15th through Sept. 1, between 1 and 4 pm.  If you haven't had an opportunity to visit, please make it a priority this summer. There is a lot to see and learn and the docents are looking forward to sharing it all with you.
For more info: www.halehouseri.org
Written by: Deb Stallwood