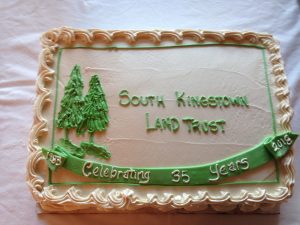 "A Retrospective on the South Kingstown Land Trust's Approaching Middle Age"
by Clarkson Collins
In the cold of a winter's night, they say, when the wind is in the trees,
And the moon is a ghostly Galleon tossed on cloudy seas
And the road is a ribbon of moonlight, looping Matunuck's moor
The Land Trust's time-honored shadows, stride up to our Barn's front door.
They rap with a twig on the window, but find no meeting there,
Is it the wind that moves the table– and draws around the chairs?
Or is it Gammell, Guarriello, Kittredge–Freeman, Littlefield and Watson
Here to comb through our minutes and assess how our work's done,
And in thirty-five years the square miles of land won?
-My sincerest apologies to Alfred Noyes, author of The Highwayman.
As one of the original members of the South Kingstown Land Trust board of trustees, I can say that the spirits of six persons who, on January 27, 1983, created the South Kingstown Land Trust—Ivory Littlefield, Roger Freeman, Edward Watson, Helena-Hope Gammell, Virginia Kittredge, and Anthony
Guarriello—are still very much with us.
At that time, the town was experiencing a huge burst of residential development, and it became clear that the Town's zoning and planning laws alone were not up to protecting the valuable natural resources that form the basis of the town's well-being. The University of Rhode Island Graduate School of Oceanography was in the final stages of a Salt Ponds study (1976-1984) that confirmed many of these concerns.
With the support of such environmentally-minded leaders on the Town Council as Duncan Doolittle, Gilbert Indeglia, Gaytha Langlois, Roger Freeman and Anthony Guariello, and the Outreach efforts of URI, the planning board invited speakers to discuss alternative means of protecting South Kingstown's natural resources. Among the most interesting was the concept of a land trust that could preserve the lands of critical concern identified in the Salt Ponds study by buying them, rather than through regulation. Littlefield, chairman of the Planning Board, and Doolittle, then a former councilman, quickly enlisted the core of a South Kingstown Land Trust.
Upon Littlefield's passing in 1985, SKLT pressed forward under Doolittle's guidance, having received
its first three land donations totaling 30 acres from Helena-Hope Gammell in 1983 and 1984. By 1990,
SKLT notched its 100th acre saved. The next decade showed exponential growth, with over 1,000 more
acres in conservation by the end of 1999. Today, at 35, with staffing at 135 hours per week, we are keeping pace with a thriving membership of 1,500 supporters and more than 2,800 acres in our care, and keeping peace with our founders.
– Clarkson Collins