School is back in session and SKLT was lucky enough to have a young historian join our team! Sean is a student at Wakefield Elementary School and for a school project made a model of the Perry Grist Mill, and wrote a terrific report!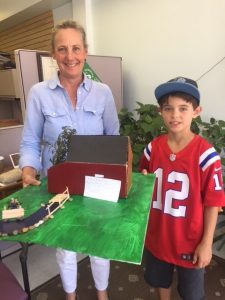 "I will be telling you about the Perry Grist mill. I hope there are a few new things that you will learn. The Perry Grist Mill was built by Samuel E. Perry in 1703. In my research I found a second date that said it was built in 1716. Whichever date it was built, the Grist Mill is over three thousand years old. It was originally built on Mill Pond and then moved to its present location, on Moonstone Beach Rd, in the Perryville section of South Kingstown. 
The Grist Mill's original name was The Perry Grist Mill. The name was changed to Carpenter's Grist Mill in 1874 when the Carpenter family bought it. the most recent family to own the Grist Mill was the Smith family. The Smith's bought the Carpenter's Grist Mill in 1985, and then sold it to the South Kingstown Land Trust in 2012. 
The main purpose of the Grist Mill, is to turn Whitecap Flint Corn into cornmeal, which is used to make many different foods. Before the corn is ready too be ground up it first goes through the corn sheller. The corn cobs are placed into a machine with a hand crank and metal spikes that remove the corn kernels from the cob. 
How the corn gets turned into the cornmeal is that a gate is opened, and the water flows down the sluice way which goes to a 12 foot drop to turn a turbine to the stone. The corn kernels are poured into the center of the stone so it can be ground into cornmeal. this is one of the only water powered mills still in operation in Rhode Island. 
So next time you drive on Moonstone Beach Road, take a second to stop and see the Perry Grist Mill. because now you know what a big role the Perry Grist Mill plays in our community's history. " – Sean