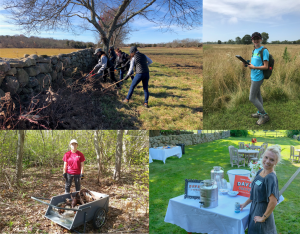 Volunteers Open House
Tuesday, November 29th (5:00 p.m. – 7:00 p.m.)
Free, registration encouraged
South Kingstown Land Trust's success depends on you, our community volunteers! Grab a friend and stop by the Barn at to learn more about the variety of opportunities to volunteer and make a difference in protecting and stewarding open space. You'll find which opportunity is best for you, whether that's removing invasive plants, picking up litter, working events, or stamping envelopes.
LOCATION: SKLT Barn, 17 Matunuck Beach Road