Wednesday, October 23
Using Trail Cameras to Study Wildlife Behavior
Place: SKLT Barn, 17 Matunuck Beach Rd.Time: 6:00 pmOn Wednesday, October 23, SKLT will host Janet Pesaturo for a presentation on camera trapping.  Janet is a conservation biologist, certified tracker, and writer who travels around the country tracking and camera trapping everything from mouse to moose. In 2018, she published her first book,
Camera Trapping Guide: Tracks, Sign and Behavior of Eastern Wildlife
. This one-hour talk followed by book sale and signing will introduce trail cameras—how they work and how to set them up—and discuss smart camera placement so you, too, can capture photos and videos that reveal the secret habits of animals. Bring a dish to share! Potluck supper begins at 6 p.m. followed by lecture at 7 p.m. at the SKLT Barn, 17 Matunuck Beach Rd. Books available for $20 (cash only please). Kindly RSVP online at
http://sklt.org/events-calendar/
Saturday, November 2
All Ages Hike & Park Rx
Place: Browning Woods TrailTime: 10:00 am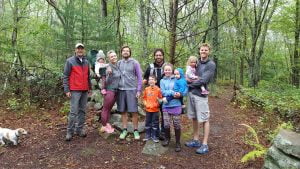 Join us for an all ages hike in our largest land holding through pine and oak forest and past amazing stone walls. We will hike about 3 miles, though you can shorten your outing to about 1 mile if desired. Kids and leashed dogs welcome! This monthly hike on first Saturdays is part of a Park Rx initiative in which healthcare providers in South County are joining a national movement to "prescribe" taking walks and spending time in nature for better physical and mental health.
Click here
for a trail map of Browning Woods.
Thursday, November 7
Wildlife and Habitat Conservation Presentation
Place: The Barn, 17 Matunuck Beach Rd.Time: 6:00 pm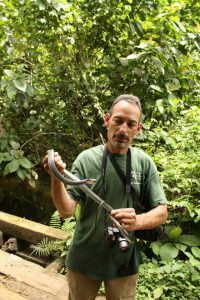 On Thursday, November 7, join SKLT as we host Louis Perrotti, Director of Conservation Programs at Roger Williams Park Zoo, for a presentation on the Zoo's contributions to wildlife and habitat conservation here at home and around the globe! The talk will feature international projects from elephant conservation to amphibian rescue efforts in South America. It will also highlight Roger Williams Park Zoo's captive breeding and reintroduction efforts for many local threatened and endangered species like the American burying beetle, New England Cottontail rabbits, and Timber Rattlesnakes. Bring a dish to share! Potluck supper begins at 6 p.m. followed by lecture at 7 p.m.