Saturday, September 7
All Ages Hike & Park Rx
Place: Browning Woods TrailTime: 10:00 am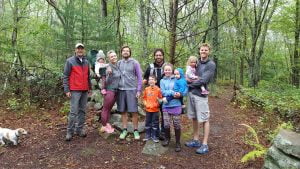 Join us for an all ages hike in our largest land holding through pine and oak forest and past amazing stone walls. We will hike about 3 miles, though you can shorten your outing to about 1 mile if desired. Kids and leashed dogs welcome! This monthly hike on first Saturdays is part of a Park Rx initiative in which healthcare providers in South County are joining a national movement to "prescribe" taking walks and spending time in nature for better physical and mental health. This hike is participating in the the Rhode Island Land Trust Days!
Click here
for a trail map of Browning Woods.
Saturday, September 14
Annual Hotdog Roast
Place: SKLT BarnTime: 4:00 pmJoin us on Saturday, September 14 from 4:00-6:00 pm at the SKLT Barn for our Annual Hot Dog Roast, a family friendly event that is part of R.I. Land Trust Days! You can wash your hot dog and other delicious homemade side-dishes down with a cold beer, courtesy of Whalers Brewing Company. All age tickets are $5. Pay at the door (cash preferred!) Bring your own lawn chairs or blankets!
Thursday, September 19
3rd Thursday Hike: Weeden Farm
Place: Weeden Farm, 17 Matunuck Beach Rd, South KingstownTime: 8:30 amJoin us for our 3rd Thursday Hike! September's hike will be on Weeden Farm, which is located on a glacial outwash plain. This easy-to-walk 1.6 mile trail features pastoral views of stone walls and fields actively cultivated for hay and corn. Visitors also may enjoy views of fields managed for wildlife habitat and a large grove of larch trees. Ample parking can be found next to the South Kingstown Land Trust Barn, site of our annual auction and many other events throughout the year. For directions, visit 
http://sklt.org/land-we-protect/trail-maps/
This hike is participating in the RI Land Trust Days!