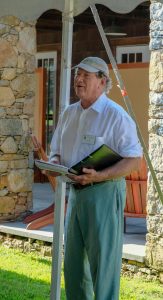 Clarkson, aka Clark aka Tuby, Collins has made the decision to step off the staff of the SKLT effective December 20, 2019. Whereas he may be a man of many monikers he is most singular in talent, intellect and passion. Clark has been passionate about enjoying and protecting nature in South County since he learned to dog-paddle in Potter's Pond as a small child in the early 1950s.
A graduate of Brown University, Clark went on to receive a Masters in Marine Affairs at URI and worked at URI's Coastal Resources Center on environmental planning for the lands bordering Rhode Island's coastal ponds. He later brought this experience to the position of Director of Community Development for the Town of Narragansett for twenty years. Involved with SKLT since its founding in 1983, he served on the Board and as its President from 1992 to 2004.
Ironically, Clark's first paying job was working as a summer farm hand for the Smith family on Weeden Farm. Beginning in 2006 Clark assumed a part-time staff position with SKLT as Land Management Director, working out of the Barn at Weeden. His perseverance, knowledge and passion have resulted in improved farmland and forest health, increased habitat diversity, an extended trail system, and the restored stone walls (and views) of Weeden Farm.
While his many skills and knowledge will be missed in the field, we will truly miss his enduring patience, sense of humor and wise counsel. He has promised to stay involved, and lucky for SKLT Clarkson Collins is most definitely a man of his word.
SKLT is actively searching for a full-time Land Management Director. Applications are being accepted through February 29, 2020. Please see pdf for job description and details. SKLT Land Manangement Director