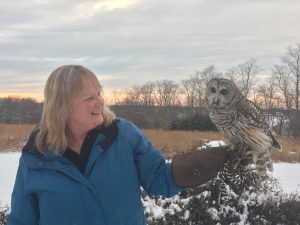 On Sunday, April 30th at 3 p.m., after conducting a short business meeting, SKLT will host a presentation at the Barn about raptors. Lauren Parmelee, shown here with Eec, a Barred Owl, is the Senior Director of Education at the Audubon Society of Rhode Island (ASRI) and will be teaching us about birds of prey.
Lauren has been active in science education for many years, working at a variety of museums, nature centers and research facilities around the country. She is an experienced birder who leads walks around the region and regularly teaches a popular Beginning Birding class for Audubon members.
In addition to its educational programming, ASRI is involved in several conservation projects that help raptor populations in our state. In 2017, they will be focusing on protecting grassland habitats, where bird populations such as American Kestrels and Eastern Bluebirds are of high conservation concern. ASRI also operates the Providence Peregrine Webcam, which allows schoolchildren and others to take an up-close look at a family of peregrine falcons each spring as they nest and raise their young atop the Superman Building in Providence.
In her presentation, Lauren will speak about raptors, specifically the species that can be found in South County. And yes, she's bringing Eec with her!
We thank Lauren for coming to share information about these beautiful creatures with us. Join us, and bring a friend. They can become members of SKLT at the meeting and enjoy the fun.
SKLT's business meeting will kick off the event, with a financial review, operations update, election of trustees and a vote on changes to our bylaws.