To volunteer, please complete the form below!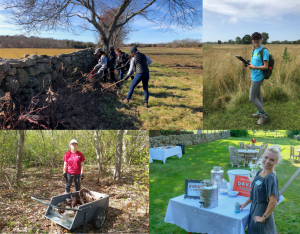 Weekly Tuesday morning workdays (9 – 11 a.m.): Invasive plant removal, trail work, wildlife habitat enhancement, etc. Register in advance to receive location and details. info@sklt.org.
SKLT Trail Ambassador: Volunteer trailhead ambassador. Greet trail visitors, give them maps, answer basic questions, invite them to become members if not already, and refer them to staff by giving them a business card if there's more they want to know.
Litter Patrol: Clean up trash at assigned SKLT properties once a month throughout the year.
Boundary Marking & Monitoring: Work with staff to identify and mark property boundaries. (Skills required)
Ecologist: Conduct inventories of plants and habitats. (Skills required)
Office: Scanning/archiving land protection materials. Prep and labeling for bulk mailings, invitations and newsletters.
Event and Program: Event and program staffing including check-in, general hosting duties, parking, etc.
You can help protect land for wildlife habitat, agriculture, recreation, and scenic vistas in South Kingstown by volunteering with South Kingstown Land Trust. Volunteers are essential to the work we do protecting and conserving land.
Every year South Kingstown Land Trust must monitor each of the protected properties and document their condition. Some years ago we decided that a one-day event, when volunteers get out and onto the properties at the same time, could be an efficient and fun way to get the job done. So, come early spring – before the trees leaf out – monitoring day is held.
First-time volunteers receive a brief training before heading out with more seasoned volunteers to trek the trails, farms, and seaside properties. Once afternoon monitoring is done, SKLT invites volunteers back to the Barn for dinner – chili or corned beef and cabbage or whatever we feel like cooking that year. There is always room for more volunteers, so check our Events Calendar to learn when the next monitoring day will be held.
Land trust volunteers also assist us with:
Trail maintenance
Office work and mailings
Planning, set up, and cleanup for member events
And more… If you have a special talent, whether as an experienced trail guide, a botanist, a nature photographer, or whatever it may be — let us know so we can see how we might tap your talent in service of our mission to protect and conserve the special places in South Kingstown. We truly value the participation of our members and volunteers! For more information, contact us.