Board of Directors
Linda T. Green, Chairperson
Ellen Grebstein, Vice Chairperson
James L. Farrell, Treasurer
Anne B. Richardson, Secretary
Jessica Bradley
Heather Mae Breau
Clarkson A. Collins
Charles Kelley
Katherine Long
Susan Seyfarth Lovejoy
Kevin McCloskey
Timothy Philbrick
Elise Torello
Edward Watson, Jr.
Charles M. Lewis, Director Emeritus
Sophie Page Lewis, Director Emerita
Michael A. Sherry, Director Emeritus
Staff
Julia Fry Landstreet, Executive Director
julia.landstreet@sklt.org 401-789-0962 x205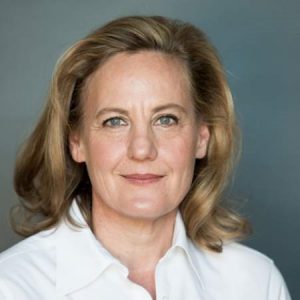 Julia Fry Landstreet joined SKLT as Executive Director Fall 2016. She is a lifelong conservationist and naturalist with a strong background in non-profit administration and public service. Julia has long standing roots in the Westerly area, where she and her family  relocated from Nashville, TN. Her work in Nashville, included serving as the Executive Director for Nashville Civic Design Center, a think tank for planning and design, and the Board of Directors for Friends of Warner Parks, where she chaired the Natural Resource committee, and led the capital campaign raising over $18 million dollars to purchase properties that include a rare 250 acres old growth forest for this now 3100 acre urban park. She has also been an elected official, community organizer, curator, conservation activist, naturalist and educator. Julia is excited about the natural and cultural treasures of South Kingstown – open space makes all the difference.
Tyler Maikath, Land Management Director
tyler.maikath@sklt.org 401-789-0962 x202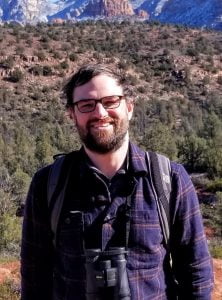 Tyler joined SKLT in April of 2021. He comes to RI from Cape Cod, where he grew up, and developed an interest in conservation from a young age. As a child, he and his family visited state and national parks. Tyler studied Wildlife & Conservation Biology at URI, living in Wakefield and Narragansett. Following graduation, he began his career protecting Piping Plovers and terns with Mass Audubon and Mass Wildlife. Tyler then studied Environmental Studies at Antioch University New England for a Master's. Thereafter, he served at Greater Worcester Land Trust in the Mass-LIFT AmeriCorps program (now TerraCorps). Following a move back to Cape Cod, and a hiatus from the nonprofit world, Tyler has worked for Harwich Conservation Trust and Dennis Conservation Land Trust for the last several years in a split-time role as Outreach & Stewardship Coordinator. In his free time, Tyler is fond of disappearing into the mountains for days, playing guitar, birdwatching, and too many other hobbies to list.
Kevin Nelson, Land Protection Director
kevin.nelson@sklt.org 401-789-0962 x203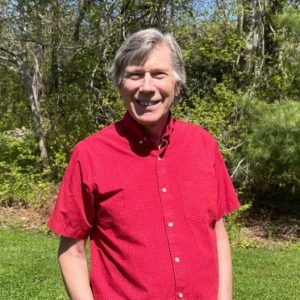 Kevin Nelson joined SKLT in May of 2022. Kevin was a Planner for the R.I. Department of Administration's Division of Statewide Planning for 32 years.  He served as a Supervising Planner for 12 years, assisting municipalities in the development of local comprehensive plans and overseeing reviews of various projects and grants for consistency with State and local plans.  Over the course of his career, many of his duties have been connected to environmental issues.  These include serving on the Governor's Advisory Committee on Natural Heritage Preservation, the R.I. Resource Conservation & Development Council's Environment and Water Quality Committee, the R.I. Rivers Council, the R.I. Agricultural Lands Preservation Commission, the R.I. Trails Advisory Committee, and the R.I. Recreational Resources Review Committee.  He also served as a technical advisor to the State Conservation Committee and as staff to the R.I. Greenways Council.  Kevin was also a member of the Galilee Salt Marsh Restoration Team for which he received a Certificate of Appreciation from Coastal America.  In addition to his professional experience, Kevin has served as a Vice-President for both the R.I. Wild Plant Society and the Environment Council of R.I.
Matt Eldridge, Marketing and Development Coordinator
matt.eldridge@sklt.org 401-789-0962 x204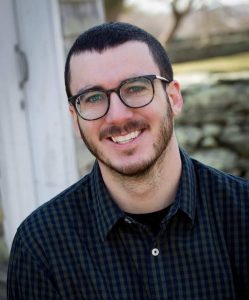 Matt Eldridge joined SKLT in March of 2021. Born and raised in Narragansett, Matt is a lifelong nature-lover, photographer, and birdwatcher. After receiving his Journalism degree from American University in 2014, he focused his career on environmental and arts nonprofits in Rhode Island. His professional background includes years of marketing and nonprofit development experience, including prior work at Norman Bird Sanctuary in Middletown and Jamestown Arts Center. In his free time, you can find Matt walking his dog, hiking, camping, reading, drawing, or writing short fiction.