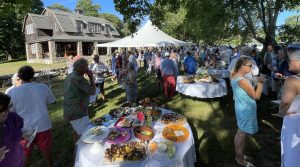 THE GREAT OUTDOORS CELEBRATION & AUCTION


August 6, 2023




4:00 p.m. – 6:30 p.m.




Auction Begins at 5:00 p.m.
SKLT Barn, 17 Matunuck Beach Rd.
Gather your family and friends to celebrate South Kingstown Land Trust's 3,070 acres of protected open space while overlooking the beautiful fields at Weeden Farm.
Grab an auction program and get ready to bid for your favorite items from our beloved live and silent auctions. There's some unique items and fun experiences that you will not want to miss!
Wine, beer, and hors d'oeuvres will be served.
Click Here for Sponsorship Benefits
Great Outdoors Celebration & Auction 2023 Sponsors
Pacesetter
Chris Gaffney & Karen Kames
Ken & Dottie Woodcock

Gatekeeper
Ed & Carol Cimilluca
Susan Seyfarth Lovejoy
David & Carolyn Moultrop
Paul & Barbara Schurman
William & Judy Taft

Trailblazer
Linda & Howland Green
Bill & Adelaide Harris
A. Bliss Hoffman
Katherine Long & George Bertholet
John W. Mills III & Marie Luise Mills
John D. Richardson
Holly L. Smith-Reynolds
Elise Torello & Bill McCusker
Linda Tucker & Richard Hodgson
Caroline Wilkel
Michael & Susan Winter
Anonymous

Nature Lover
Mr. & Mrs. Jonathan S. Bean
Ed Buzzi & Sue Clasby
Capital Wealth Management
Clean Rite Cleaning & Restoration
Clifford M. Renshaw Architects
Lodowick Collins & Marjorie Jackson
Bob & Gail Dyer
Bridget & Tom Gilchrist
Giraud Family
Carolyn A. Griswold
Howard Johnson Inc.
John & Carol Howland
Jennifer's Chocolates
Nancy McLean, Randall Realtors | COMPASS
Sue Mittendorf
Ocean Mist
Joseph L. Orlando & Diane C. Fournaris
Claudia Philbrick
Point Break Cottages
Jo & Rick Rakauskas
Richard & Kristin Schwab
Steven Sweeney & David Goetsch
The Pub
Maura Travers
Westerly Community Credit Union
Roy Zoern & Michael Gallagher
Special Thanks to 2023 Corporate Sponsors!
Nature Lover:


Nancy McLean, Randall Realtors | COMPASS