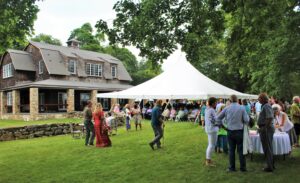 August 7, 2022
4:00 p.m. – 6:30 p.m.

Auction Begins at 5:00 p.m.
SKLT Barn, 17 Matunuck Beach Rd.
Gather your family and friends to celebrate South Kingstown Land Trust's 3,070 acres of protected open space while overlooking the beautiful fields at Weeden Farm.
The beloved live auction returns with comedian Poppy Champlin as our auctioneer and live music accompaniment. There's some unique auction items and fun experiences that you will not want to miss.
Wine, beer, and hors d'oeuvres will be served.
Great Outdoors Celebration & Auction 2022 Sponsors
Pacesetter
Christopher S. Gaffney & Karen Kames
Ken & Dottie Woodcock
Preservationist
James & Hope Farrell
Belmont Market
Austin & Susan Smith
Gatekeeper
Ed & Carol Cimilluca
A. Bliss Hoffman
Rob & Peggy Leeson
Susan Seyfarth Lovejoy
David & Carolyn Moultrop
Shoreline Properties Inc. – Joseph Catelli
Will & Judy Taft
Trailblazer
Anonymous
William & Adelaide Harris
John W. Mills III & Marie Luise Mills
Ocean Mist
Anne Richardson & Jamie Robertson
John D. Richardson
Timothy Schaffner & Anne Maley-Schaffner
The Village at Worden's Pond
Elise Torello & Bill McCusker
Linda Tucker & Richard Hodgson
Nature Lover
Dr. Frances Alexakos & Britt Bell
Lodowick Collins & Marjorie Jackson
Clifford M. Renshaw Architects
Pamela Connell
Carolyn A. Griswold
Howard Johnson Inc.
John & Carol Howland
Drs. Louis & Susan Kirschenbaum
Raymond B. Langton & Jane A. Nash
Katherine Long & George Bertholet
Jean & Ben McCleary
Elizabeth & David McNab
Tim & Claudia Philbrick
Renny G. Simpson
Maura Travers
Barry & Deborah Wepman
Rosanne Zimmerman & Bob Fetzer
Westerly Community Credit Union
Special Thanks to Corporate Sponsors!