Thanks to all of you, The South Kingstown Land Trust has grown into one of the leading organizations of its kind in Rhode Island by protecting over 2,640 acres of beautiful South Kingstown land. Protecting the natural resources and open space of our town is for the benefit of our entire community. The rural landscape continues to appeal to all who enjoy the natural beauty of farmlands, woodlands, coastal ponds and scenic vistas. Perhaps you've hiked our trails, monitored property for us or attended a program and dinner at the barn. We welcome the public to use our 12 miles of well-maintained hiking trails located throughout South Kingstown.  Providing publicly accessible hiking to some of the largest and the most beautiful acreage of our preserved inventory of conserved natural lands is one of SKLT's proudest accomplishments.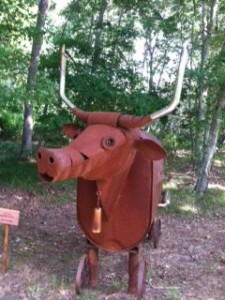 We have recently BEEFED up our newest trail located on Green Hill Beach Road.  It is now open to visitors to enjoy the works of 24 sculptors while they walk the trail. Sir Loin, by Sean Harrington, will be there to greet you. The beautiful vistas you see along Matunuck Beach Road are part of the work of the Land Trust. The stonewall restoration is ongoing and restored by volunteers.  The open fields are leased to local farmers to grow vegetables for area restaurants and farmers' markets. Several times a year, we invite school children and families to the Samuel Perry Grist Mill in Perryville to learn about the historic importance of the mill – see a grinding and taste jonnycakes. This water-powered mill has been in continuous operation since 1703. We hope to keep grinding for another 300 years.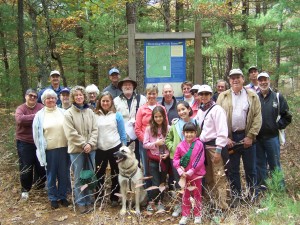 As SKLT has had great success protecting many special places, along with that success comes the challenge of operating and maintaining it all. The Land Trust must be prepared to maintain its stewardship program in perpetuity – a very long time!  We rely on folks like you to give your time, talent, and your much appreciated donation.  Thank you for including SKLT in your charitable giving. Sincerely, Michael A. Sherry, President P.S. This is your opportunity to be a partner in this effort to create a lasting legacy for future generations.