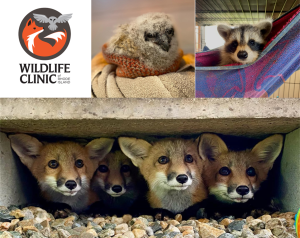 Rehab & Release: Saving Injured Wildlife with Kristin Fletcher
Monday, November 7th (6:00 p.m. – 8:00 p.m.) Potluck begins at 6pm; Presentation at 7pm.
Have you ever found an injured or orphaned wild animal and weren't sure what to do? Learn firsthand from the Wildlife Clinic of Rhode Island's Executive Director Kristin Fletcher, who will explain how to work with the Clinic's staff to assess different situations and help save wildlife.
Wildlife Rehabilitators Association of Rhode Island (WRARI) have been providing direct, hands-on medical and rehabilitative care to all species of injured or orphaned wildlife in the state since 1993. The organization, based in Saunderstown, assists more than 6000 wild patients annually, with the goal of releasing them back into the environment.
Free, $10 suggested donation
SKLT Barn, 17 Matunuck Beach Road