#ProtectingSK
A series of tidbits to tell you more about who we are and what's involved for SKLT to protect and steward South Kingstown Land. We hope you enjoy the bit of light reading over the coming weeks!
Snippet #6: Membership
Members are the heart and soul of our organization. The consistent financial support from membership dues enables us to do what we do…forever. It is each and every member of the SKLT family and community together who have made it possible to open nine walking trails in our beautiful town, protect local flora and fauna, provide agricultural opportunities to produce fresh, local food, preserve our local aquifers, maintain scenic vistas and a high quality of life for residents and visitors alike, and so much more.
Not a member? Join our fantastic family! SKLT memberships are for one full year from date of gift. We also offer the option of a sustaining membership, which is a recurring monthly gift, charged to your credit card. And, consider a gift membership to share your love of open space. For more information on our membership program, or to join, visit https://sklt.org/supportsklt/membership/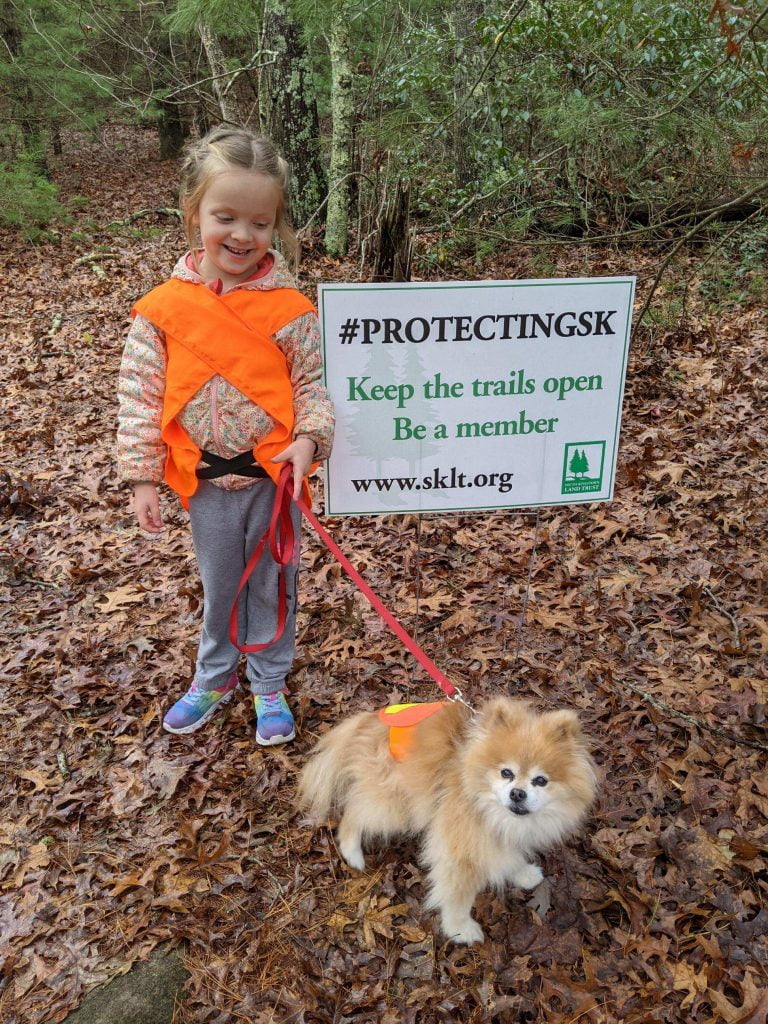 Snippet #5: Hiking Trails
SKLT is delighted to have created and maintain 9 trails covering over 14 miles throughout South Kingstown. Our stewardship responsibilities to the land limit public access on some of the properties, but through our trails SKLT staff have created public access to over 920 acres. We made the decision to focus resources and keep the trails open throughout COVID. Judging from the dramatic increase in trail use our community appreciates a safe opportunity for exercise, and a reprieve from an isolated or digitized life.
The trails vary from a quick stroll to several miles, flat terrain to moraine hills, sculptures to old foundations. There's a trail to suit everyone's preference!  Trailhead kiosks share information about the history of the sites. And, many may not realize that there is a self-guided geology trail around the perimeter of the fields at Weeden, as well as a plant inventory. SKLT also offers a list of birds found on our trails from the RI Bird Atlas 2.0. You can download these documents as well as all of our trail maps at https://sklt.org/land-we-protect/trail-maps/.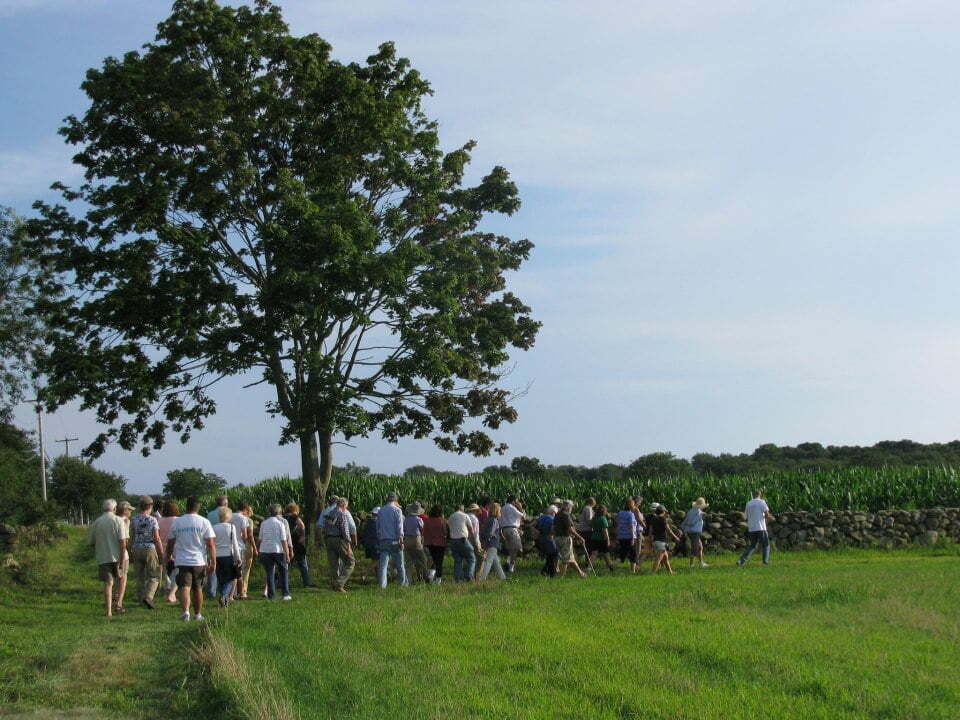 Snippet #4: Historic Properties
As with the Samuel Perry Grist Mill, there's an interesting story about almost every property SKLT has protected. The trail at Browning Woods Farm, for example, passes a stone foundation, and some granite mounting blocks from the Browning's ancestors. According to family lore the road by the farm was so heavily traveled their ancestors operated a general store at that site. Try to imagine that next time you're there.
Somewhat easier to imagine is the large mill, pond, and other structures at the Biscuit City Preserve. The trail also passes the old well house and a storage cellar. Signage at the site explains more. The Hale House was the summer home for the E.E. Hale family. The educational displays, exhibits, and programs are managed by the Matunuck Preservation Society. We are looking forward to viewing all the improvements next summer that they accomplished during the forced closure.
Photos: Archaeology class at Biscuit City led by SKLT member Katherine Long; View of Hale House from Wash Pond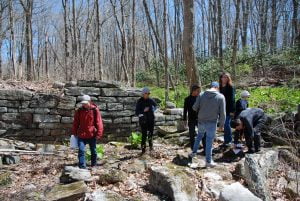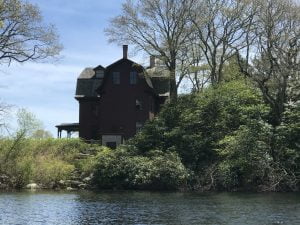 Snippet #3: Farmland
Locally grown food is highly valued by South Kingstown residents, as evidenced by the strength of our local farmers markets and support for bond issues that fund farm preservation. Those values mean there needs to be local farmland available for farming. A priority for SKLT has been protecting farmland, and working with farm families who want to continue to farm but need to raise funds. High land and house values can pressure farmers and farm families and they can't afford to keep farming. One option is for farmers to sell development rights on their land, with SKLT's help in applying for federal and state funding to do so. The farm family receives about 70-80% of the full fair market value of the land, the land remains owned by them, and is restricted to agricultural use by them and all subsequent generations. It is a win-win for everyone – the farmers and our community.
SKLT has assisted 24 farm families protect 815 acres of prime farmland in South Kingstown for agricultural purposes. One good example is the connected protected fields of Bayfield farm, Rocky Meadows farm, Whaley farm and the former Bud Browning farm, all off Route 1 in the southeastern part of town (see map below).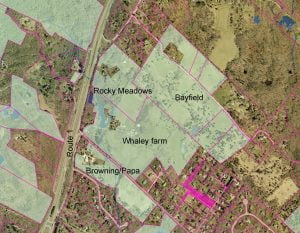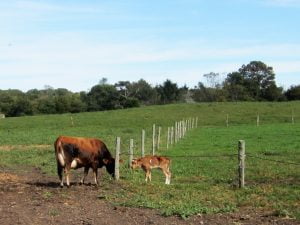 Snippet #2: Wildlife
SKLT is proud of the role we play in protecting local wildlife and the partnerships we have forged with like-minded organizations in order to do so. A study with the The Wildlife Genetics and Ecology Laboratory at the University of Rhode Island's Natural Resources Science Department which involves a trail camera survey on SKLT property to better document the distribution and relative abundance of bobcats is one such example. We are also currently collaborating with Dr. Numi Mitchell of the Narragansett Bay Coyote Study (NBCS), the Rhode Island Natural History Survey, and R.I. Department of Environmental Management to study the local coyote population and work toward a more peaceful coexistence (see photo below).
And don't forget local and native flora! Thanks to funding from the Natural Resources Conservation Service (NRCS), SKLT participates in a delayed-mow program and plants fields of flowers at Weeden Farm that benefit pollinator species (see photo below). Additionally, one of SKLT's properties is utilized by the URI Master Gardeners and The American Chestnut Foundation to help bring back a hybrid version of the American chestnut. These are just a handful of examples of the ways we work toward benefiting our SK's wildlife. We look forward to many more partnerships in the future.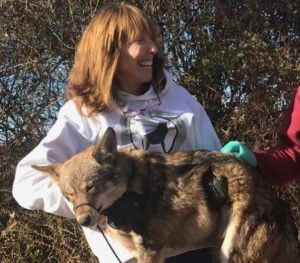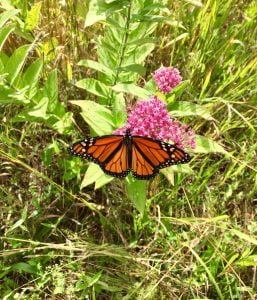 Snippet #1: Land Trust Fundamentals
Sometimes we're asked if SKLT is part of town government or funded by the town, and the answer to both of those questions is no. SKLT is a private non-profit 501(c)3 corporation, recognized by the IRS as a charitable organization. Gifts to SKLT are fully deductible as allowed by law – whether cash, securities, or land.
SKLT has applied to the Town's Open Space Bond program from time to time for funding to complete land protection projects, such as the Alewife Brook Preserve (soon to be opened with public trails) and the Whaley Farm project. SKLT retains none of the funds from a Town grant. Instead, these funds go towards the fees for necessary documentation such as an appraisal or survey as well as the cost of the land itself.
In 2016, SKLT successfully became an ACCREDITED land trust, after a very rigorous process with the national Land Trust Accreditation Commission, based in Saratoga Springs NY. This designation is a mark of distinction, and highly regarded by funding agencies as well as donors and members.