Kevin Nelson joined SKLT with robust knowledge of our land protection efforts due to his 32 years as a Planner for the R.I. Department of Administration's Division of Statewide Planning.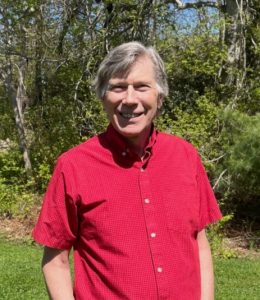 He served as a Supervising Planner for 12 years, assisting municipalities in the development of local comprehensive plans and overseeing reviews of various projects and grants for consistency with State and local plans. Over the course of his career, many of his duties have been connected to environmental issues. These include serving on the Governor's Advisory Committee on Natural Heritage Preservation, the R.I. Resource Conservation & Development Council's Environment and Water Quality Committee, the R.I. Rivers Council, the R.I. Agricultural Lands Preservation Commission, the R.I. Trails Advisory Committee, and the R.I. Recreational Resources Review Committee. He also served as a technical advisor to the State Conservation Committee and as staff to the R.I. Greenways Council. Kevin was also a member of the Galilee Salt Marsh Restoration Team for which he received a Certificate of Appreciation from Coastal America. In addition to his professional experience, Kevin has served as a Vice-President for both the R.I. Wild Plant Society and the Environment Council of R.I.
Kevin is excited get to know the SKLT family. Your emails are welcomed at kevin.nelson@sklt.org.