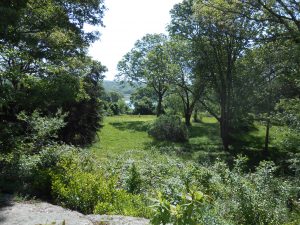 The South Kingstown Land Trust is very happy to announce that we have successfully protected 22 acres in Middlebridge owned by the Smith family. First, thanks to the siblings who worked so hard to make this project a reality: Heather Collins, Martha McManamy, Christopher Smith, Bruce Smith and Holly Smith. Their perseverance demonstrates their family's continued commitment to the preservation of this area.
"Our family has long appreciated the many extraordinary features and the view from this beautiful piece of land located up the hill from Middlebridge. The current generation is pleased to fulfill our Campbell family's wishes in entrusting this land to the South Kingstown Land Trust to preserve in perpetuity", noted Heather Collins, daughter of Jane Campbell Smith and Barton P. Smith.
Along the Narrow River is a corridor of protected land owned by US Fish & Wildlife Service, SKLT, Narrow River Land Trust and Audubon Society of RI, which totals over 180 acres of riverfront land on the South Kingstown side of the river. Funding for this project was provided by a Local Open Space grant from the RI Department of Environmental Management, a grant from the Bafflin Foundation, a private donation, and a significant bargain sale from the family.
"The knowledge of the staff at SKLT was impressive and their dedication to the environment will bless many generations to come. I was impressed by how hard SKLT worked on our behalf to assist us, as a family, to reach our goal of preserving the family land. Joanne's commitment to this cause, in fact the entire organization's commitment, successfully makes this part of Rhode Island a more beautiful environment for us all, now and into the future. Well done!", commented Holly Smith of Peace Dale.
The surrounding village is very densely developed, and this property, with undisturbed wooded frontage on Middlebridge and Torrey Roads, provides scenic value. "Preservation of this land prevents an increase of surface runoff into the Narrow River that could have been generated by the development of 10 additional lots", according to SKLT Land Protection Director Joanne Riccitelli.
The property contains a dense unfragmented second growth forest, typical habitat for various bird migrants and residents that rely on intact forested areas, such as scarlet tanager, turkey, woodcock, various warblers, wood thrush and ovenbird. Other birds that benefit from this habitat include hawks, owls, and bald eagles, which are often seen on the river in winter. This land is also home to cottontails, coyotes, foxes, fishers and deer.