Another great Annual Meeting in the books!
Julia Landstreet, Executive Director, opened the 34th Annual Meeting of the Members and provided a People, Properties & Programs recap of 2016 and the first few months of 2017. She spoke a little about herself and introduced Doug McGovern who has joined the land management team and Mo Howard, who is SKLT's new face for communication and outreach.
Landstreet shared many facets of SKLT starting with the numb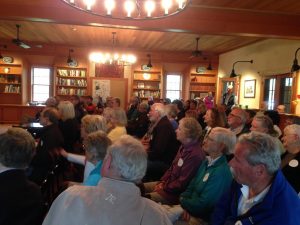 ers; 1,563 acres in fee and 1,163 acres under easement. We anticipate closing on three more projects within the next few months for a value of $1.95 million and a total of 95 additional acres. She also highlighted programs and practices for land management, leasing, stewardship grants, targeted outreach, fundraising, community and member events. Memorial Day weekend marks the kick-off of the Summer Saturday Morning Yoga at the Barn, 9:00 AM, and the Staff and Trustees will be participating in the South Kingstown Memorial Day Parade.
Landstreet's report was followed by Linda Green, wearing first her Secretary hat to present the Minutes from the 2016 meeting and then her Nominating Committee hat with the slate Trustees. Both were passed unanimously. Retiring Trustees are Charlie Lewis and Sophie Page Lewis. Returning for second three year term, Heather Breau, Susan Lovejoy, Timothy Philbrick and Carl Sawyer, and for a third three year term, James Farrell. The new Trustees are Joe Orlando, Cindy Sabato, Sherwood Small and Caroline Wilkel, MD.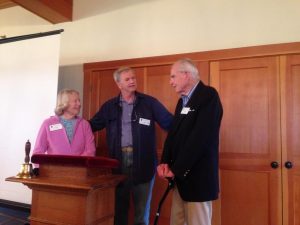 Treasurer, Jim Farrell shared the year-end financial report which illuminated what a terrific job has been done by staff and Board alike in the fundraising and fiscal management of the organization. At year end there was over $87,000 cash on hand and over $1.3 million dollars in investments.
Marth Day, President shared updates to the bylaws that reflects the ways the organization has matured. And then invited Past President Mike Sherry to honor Sophie Page Lewis and Charlie Lewis for their 32 and 17 years of service respectively.
Our special raptor program was presented to us by Lauren Parmelee, Senior Director of Education at Audubon Society of Rh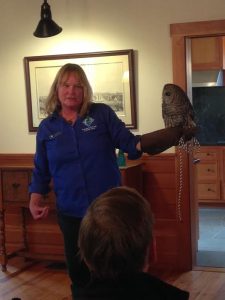 ode Island. Lauren explained in depth the raptors that can be found on SKLT properties; such as, the great  horned owl, screech owl, red tailed hawk, northern harrier, and cooper hawk, to name a few. Eec, a rescued barred owl who attended the annual meeting, currently resides at the ASRI Environmental Education. Eec was most likely injured by a motor vehicle, a most common cause of injury to owls. Parmelee explained how important preserved land is for raptors and all birds in Rhode Island and thanked the Land Trust for our dedication to preserving open space
Although it was a chillier day than expected, the poster boards, flowers and aesthetic made it seem like a pretty Spring day! Thank you, Pam Matteson for donating the beautiful cut lowers along with the Board of Trustees for providing us with delicious food. Thank you all who attended the 2017 Annual Meeting and to everyone who makes SKLT possible.
Open Space Makes All the Difference