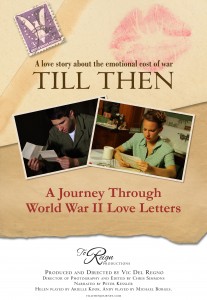 "Till Then- A Journey Through WWII Love Letters" was featured this past summer at the Rhode Island Film Festival. This World War II documentary was produced and directed by South Kingstown resident and South Kingstown Land Trust supporter, Victor Del Regno.
Vic Del Regno, the former CEO of a northeastern sales and marketing company, discovers the untold truth about his parents' relationship during World War II from a box of old letters found in a dark, damp garage. This starts him on a five-year journey that takes him halfway around the world to a small island in the South Pacific, where his father had served as a WWII Navy Seabee, and then back to his hometown of Nyack, NY.
"I wanted to tell my parents' story, and I wanted to leave a legacy to them, to our children, to the greatest generation, and to all the people still separated by war today. I also wanted people to realize the emotional cost of war and the sacrifices made for our freedom, not just by the soldiers, but by their spouses and loved ones at home too," says Vic. For more information and a trailer of the film, please visit www.tillthenjourney.com
In the coming months we look forward to showing this very moving World War II documentary at the SKLT Barn. (The screening scheduled for Sunday, October 13th, has been postponed). Stay tuned for an update.