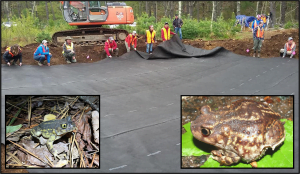 Thursday, April 8 – Saturday, April 10
Calling all volunteers! Join Operation Spadefoot RI, a habitat restoration project aimed to repopulate the endangered eastern spadefoot toad.
Volunteers will work with URI herpetologist Nancy Karraker and research associate Bill Buffum to create spadefoot breeding pools on April 8 through April 10. Pool building will occur on the Bittersweet Property of South Kingstown Land Trust (Bittersweet Farm Way off Tuckertown Road).
Volunteers are asked to bring their own gloves, and if they can, a shovel and/or a bow rake (potato rake, not a leaf rake). As this project is funded by RI DEM, we will ask participants to complete a volunteer form so we can account for time spent on the project by our generous volunteers. We will adhere to COVID guidance each day by wearing masks and remaining spaced 6 feet apart at all times.
Thursday, April 8 – (12:00 p.m. – 5:00 p.m.)
Friday, April 9 – (2:00 p.m. – 5:00 p.m.)
Saturday, April 10 – (10:00 a.m. – 4:00 p.m.)

To volunteer, please contact Matt Eldridge
at matt.eldridge@sklt.org with your availability.